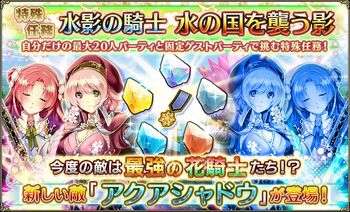 An Aqua Shadow (水影の騎士) is a mysterious clone of a flower knight made out of water and a strange stone. Aqua Shadow missions are a specific set of unique missions where you battle with powerful Aqua Shadows.
Defeated Aqua Shadows drop Aqua Shadow's Secret Stone Fragments (水影の秘石の欠片), shortened to just Aqua Fragments. These can be used in Equipment Synthesis to evolve personal equipment.
Compared to other Unique Missions, you can earn many more Honor Medals from Aqua Shadow Missions. You can use them in the Shop to buy things like Aqua Fragments, Blooming Medicines, and Personal Equipment Forge Spirits.

Aqua Shadow stages have five difficulties ranging from elementary to EX class. The first four stages force you to take the guest party along as your helper. You cannot use a helper in the EX class stage. Furthermore, EX class stages are special in that you will not lose stamina if you fail or retreat from the stage if you have not completed it at least once. That means you can try out strategies to complete these stages without wasting stamina.
Prologue
Battle against Japanese Apricot and Sakura's clones in this mission. They have incredibly powerful single-target skills and they act twice on every turn. They both boost their own Attack by 30%.
The following characters appear in the guest parties for the elementary through top class stages.
Chapter 1
Battle against Cactus' clone in this mission. In the EX class stage, Cactus (Bride of Fos) accompanies her. Both of them have an ability such that after losing a fraction of her HP, their Defense goes to zero and their Critical activation rate is raised to 90%. They also move twice on all turns. Bride Cactus comes with Provocation which will reduce Damage she takes and also redirect all single target attacks towards her.
These characters appear in the guest parties.
Chapter 2
Battle against the clones of King Protea and her assistants in this mission. In all stages, there are two Aqua Shadow fights. King Protea, Dalmatian Bellflower, and Lycaste fight you the first time. King Protea acts twice, and Lycaste misses her attacks 40% of the time. The second fight features King Protea alongside Aizoon Stonecrop. This time, King Protea will not attack twice. Aizoon Stonecrop will act three times for the first two turns, then attack twice after that. This mission is considerably easier than the previous two.
These characters appear in the guest parties.
Chapter 3
Battle against the clones of Lantana (Flower Festival) and Summer Squash. You fight them twice in each stage, but in the EX class stage, Lantana will fight on her own.
In fights against Festival Lantana and Summer Squash, both characters get 55% Attack up, 1.2x Skill Activation Rate up, and Summer Squash gets 10% Evasion. In the final battle of the EX class stage, Aqua Shadow Lantana fights alone. She fights with the normal Lantana skin, she and her bat familiars wear pumpkin masks, and she is renamed to "Perfect L?". She'll have 55% Attack up, 1.2x Skill Activation Rate, and 10% Evasion.
Your parties and the Aqua Shadows will move on the map and compete for the special nodes which grant abilities. You will not fight Aqua Shadows moving on the map until everyone reaches the gate that blocks everyone's progress.
Ability Board Translation

| Party | | Aqua Shadow |
| --- | --- | --- |
| (Collected Nodes) | Skill Activation Rate Up | (Collected Nodes) |
| (Collected Nodes) | Evasion Rate Up | (Collected Nodes) |
The left side is the party's collected nodes. The right side is the Aqua Shadows' collected nodes. The top ability with the pink flowers is increases Skill Activation Rate by 1.2x. The bottom ability with the blue flowers increases Evasion by 15%.
Each node you collect gives your party the node's ability for one turn. Collecting the same type of node multiple times makes the ability activate for that many turns; in other words, collecting the nodes does not stack the abilities to make them more powerful. Also, these nodes are carried over to the next fight if you don't consume them all during the first fight.
If you make party 1 very fast and party 2 very slow, you can procure all the ability nodes for yourself. For reference, speeds of ~950 and ~350 respectively can do this. If you have trouble making Speeds like this, do not forget to use your Promotion Abilities.
These characters appears in the guest parties.
Chapter 4
Battle against the clone of Red Spider Lily and her "Nine Tails' Shadows" in this mission. In each stage, you have the choice of fighting the little shadows in order to weaken Red Spider Lily, or going straight for Red Spider Lily.
A banner at the top of the screen shows the abilities Red Spider Lily has. Beating her shadows will remove abilities from her. These are the abilities from left-to-right.
Attack up (Permanent)
Skill activation rate up
Evade
Attack up based on the number of enemy panels on the map (Small orbs on the side denote the number of enemy panels)
Note that if you go straight for Red Spider Lily and ignore the tail shadows, you will miss chests that come out from beating the shadows.
These characters appears in the guest parties:
Ad blocker interference detected!
Wikia is a free-to-use site that makes money from advertising. We have a modified experience for viewers using ad blockers

Wikia is not accessible if you've made further modifications. Remove the custom ad blocker rule(s) and the page will load as expected.