Info
Golden-rayed Lily

ヤマユリ

Pre-Evolved
Evolved
Bloomed
★★★★★
Skill
ソレムスレイサー
Effect
Activation Rate
Deals 2.3x damage to 1 enemy
15% (Lv1) → 30% (Lv5)
After Rarity Growth
Deals 5.4x damage to 1 enemy
28% (Lv1) → 38% (Lv5)
Type
Stats
Pierce
HP
ATK
DEF
SPD
Stage
Icon
Lv
Pre-Evolved
1
1,920
3,720
4,824
550
838
1,138
425
725
893
455
60
6,720
8,520
9,624
2,100
2,388
2,688
1,040
1,340
1,508
Evolved
1
5,370
8,970
10,926
1,700
2,276
2,828
830
1,430
1,718
70
11,520
15,120
17,076
3,700
4,276
4,828
1,670
2,270
2,558
Bloomed
1
6,700
10,300
12,376
2,050
2,626
3,214
1,000
1,600
1,924
80
12,420
16,020
18,096
3,950
4,526
5,114
1,970
2,570
2,894
Rarity Grown
1
7,100
10,940
13,256
2,300
3,680
4,544
1,200
2,040
2,436
80
14,000
17,840
20,156
5,300
6,680
7,544
2,200
3,040
3,436
Additional Info
Affection Item
Books
Nation
Banana Ocean
Language of Flowers
荘厳、純潔
Family
Scientific Name
Liliaceae
Lilium auratum
Romaji Name
Yamayuri
Nutaku Name
Mountain Lily
Stage
Abilities
Pre-Evolved

Increases Attack for party members by 20% on turn 1.

Evolved

Increases Attack for party members by 20% on turn 1.

Increases Defense for 2 party members, oneself included, by 20%, increases damage reduction when defending by 3%, and allows oneself to resist fainting with 1 HP remaining up to 3 times per battle.

Bloomed

Increases Attack for party members by 20% on turn 1.

Counters 80% of the time using 2x of your Defense as Attack Power, or Super Counters if Defend and Counter activate simultaneously. (Super Counter deals 2x Counter damage).

Increases Defense for 2 party members, oneself included, by 20%, increases damage reduction when defending by 3%, and allows oneself to resist fainting with 1 HP remaining up to 3 times per battle.

Rarity Grown
Personal Equipment
Equip Name
Level
ATK
DEF
Icon
荘厳と純潔の耳飾り
1
+224
+50
Max
+420
+99
荘厳と純潔のレイピア
1
+336
+75
Max
+581
+222
Ability
During combat, increase attack and defense power of all members with matching attribute by 2%.
Artist
:
Flower Knight ID:122703
Quotes
Library Introduction
Japanese
ヤマユリだ。

カサブランカ様に仕える使用人であり、花騎士でもある。 よろしく。花言葉は「荘厳」「純潔」。 いずれ王になるカサブランカ様を支えることが私の務め。 カサブランカ様が進むべき王道を邪魔する者は決して許さないので、気をつけるように。

English
I'm Lily Auratum. I am a servant to Lady Casablanca, as well as a Flower Knight. Charmed. My name means Majestic and Chaste. It is my duty to see Lady Casablanca take the throne, Heaven help those who get in her way. Tread lightly.
Library Reference Voice Lines
Event
Japanese
English
First-time Introduction

団長。

あなたにもカサブランカ様と変わらぬ忠誠を誓うことをここに約束しよう。 その代わり、あなたもカサブランカ様に忠誠を誓え。 そして見事、私たちの力でカサブランカ様を王へと導こう……よろしく頼む。

Knight commander. I promise to swear the same loyalty I have sworn to Lady Casablanca. In return, you must also swear loyalty to her. And together let us lead Lady Casablanca to the King..I'm counting on you.
Battle Start 1

Generic Response (Positive)

Battle Start 2

Attacking 1

Attacking 2

Generic Response (Grief)

Combat Skill Use 1

Combat Skill Use 2

Generic Response (Angry)

Takes Damage

Takes Fatal Damage

Battle Defeat

Generic Response (Joy)

Victory Cheer 1 (Generic)

Victory Cheer 2 (Narrow)

Login 1

Victory Cheer 3 (Sweeping)

Fail to Vanquish Opponent 1

Fail to Vanquish Opponent 2

Login 2

Defeat Enemy 1

Defeat Enemy 2

Login 3

Stage Discovery

Treasure Chest

Conversation 1 (affection 0-29%)

Add to Party 1

Add to Party 2

Change Equipment

Conversation 2 (affection 30-74%)

Level Up

Conversation 3 (affection 75-100%)

Awakening

Pulling Free Daily Gacha

My Page Generic Phrase 1

My Page Generic Phrase 2

Recovering Stamina

My Page Generic Phrase 3

My Page Idle

Give Gift 1

Give Gift 2

Moving 1

Moving 2

Login Bonus

Extra Miscellaneous Voice Lines
Event
Japanese
English
Limited Seasonal Voice Lines
Event
Japanese
English
Gallery
Trivia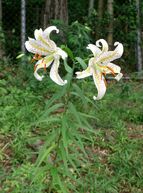 Golden-rayed Lily is based on Goldband Lily (Lilium auratum).
She is working as Casablanca's assistant, helping Casablanca to become the Queen of Banana Ocean.