Info
Novalis

ノヴァーリス

Pre-Evolved
Evolved
★★★
Skill
フレイムバースト
Flame Burst
Effect
Activation Rate
Deals 1.2x damage to 2 enemies
18% (Lv1) → 23% (Lv5)
Type
Stats
Magic
HP
ATK
DEF
SPD
Stage
Icon
Lv
Pre-Evolved
1
1,080
1,872
2,472
510
1,026
1,314
300
432
540
490
50
3,840
4,632
5,232
1,720
2,236
2,524
730
862
970
Evolved
1
3,070
4,654
5,710
1,370
2,402
2,918
580
844
1,024
60
6,600
8,184
9,240
2,940
3,972
4,488
1,170
1,434
1,614
| Stage | Abilities |
| --- | --- |
| Pre-Evolved | None |
| Evolved | Increases Attack for 2 party members, oneself included, by 3%. |
Personal Equipment
Equip Name
Level
ATK
DEF
Icon
神の祝福の耳飾り
1
211
49
(No Translation) Earrings[Fix]
Max
407
98
神の祝福の宝冠
1
317
74
(No Translation)[Fix]
Max
562
221
Ability
Increases Attack for party members of the same attribute by 2%

Increases Defense for party members of the same attribute by 2%
Additional Info
Affection Item
Books
Nation
Winter Rose
Language of Flowers
Family
Scientific Name
Rosaceae
Rosa 'Novalis'
Common Name
Novalis Rose
Romaji Name
Novārisu
Nutaku Name
Rosa Novalis
Artist
:
Flower Knight ID:111905
Background
Novalis is the current Queen of Winter Rose with Royal Princess as her vassal. Due to her very young age, Novalis is being supervised by Black Baccara & Dendrobium.
Quotes
Gallery
Trivia
Etymology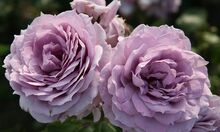 ノヴァーリス / Novalis is a hybrid rose created in 2010 by German rose breeding company W. Kordes' Söhne. Its petals are lavender. [2] [3] [4]
This flower is part of so called "blue roses". It's said to be one of the most resistant to diseases [3] [4] and cold [4] roses in this group.
Blue roses do not exist in nature because roses lack the genes to produce blue color. Their natural absence made them symbol of unreachable dreams in the past. There were experiments to create blue roses by crossbreeding and genetic engineering, but those roses always ended up in shade of purple. [3] [5]
Novalis is also pen name of a German poet, author, and philosopher of Early German Romanticism - Georg Philipp Friedrich Freiherr von Hardenberg. [8] His unfinished novel called Heinrich von Ofterdingen was the first to contain a motif later called "blue flower" (Blaue Blume). Said blue flower was a central symbol in Romanticism that stood for love, desire, and metaphysical pursuit of the infinite and unreachable. [6] [7]
References