This article contains a quick overview of how to play the game. Hope this will help a bit for new players!
Home Screen
Home Button: Return to this screen or view the backdrop.
Subjugation: Go out and fight pests.
Gacha: Buy flower knights, equipment, etc.
Quests: Earn rewards by fulfilling conditions.
Shop: Buy things with Gold or event-specific currency.
Comrade in Arms: Manage your friends.
Office: Raise characters' affection, refining, manage items, etc.
Options: Manage your setting.
Notifications: See the news from game managers.
Event banners: Click them to go to limited-time portions of the game.
Nazuna Navigator: It shows the current limited-time activities.
Comprehensive Strength Ranking: Shows your strength of Set 1 in comparison to your friends.
Gift box: Collect rewards and prizes you've earned.
Explore: Get gold, stamina and gacha seeds at random. An extra reward is earned too. 
Raid Boss: Use raid points to fight raid boss to get equipment gacha.
Garden: Manage your garden and visit your friends' garden.
Whale Boat: Fight the ancient pests.
EXP: As known as experience point. It shows the amount of EXP required to level up yourself. 
Stamina: It is required to go to subjugation.
Raid Points: It is required to fight the raid boss.
Flower Spirit Stones: Precious in-game currency.
Gold: Common in-game currency.
General Gameplay Mechanics
In Flower Knight Girl, the general play pattern is to use your acquired knights and run maps in Subjugation.  When you first create an account you will be given some knights to start with (a single strong knight and several weaker knights).  These knights will get new players through the first few worlds, but ultimately stronger knights will be required to handle tougher levels with more difficult enemies.
Strengthening Knights
There are four ways to increase the strength of your Flower Knights.
Acquiring New Knights
Knights can be acquired through the following:
Gacha - a draw based Knight distribution system where in-game currency can be exchanged for a chance at ultra-rare and strong Knights.
From chests in ordinary subjugation maps. The knights rewarded are usually 3★
Every two weeks, there is a free 5★ Knight that can be acquired by meeting certain event goals.
Gold (ゴールド) section of the Clearing House.
In-Game Currency
In Flower Knight Girl, many actions will require the use of in-game currency to perform them.  Such things, as recovering stamina, purchasing items, and increasing the strength of your Flower Knights will all require the use of different forms of currency.  Most types of currency can be acquired just by playing the game (for example, Gacha Seeds - ガチャ種), however Flower Spirit Stones (華霊石) can only be acquired as a handout from management or by exchanging DMM Points for them.
Subjugation
See the Subjugation main article for more information.
Normal Missions: Progress through the main story here.
Secret Garden: These are maps that you can randomly appear while doing other maps. They usually have good rewards.
Event banner: Takes you to a page with stuff regarding the current ongoing main event.
Events: There is always a main event and numerous republished events running. The current event is at the top. A new event starts after 2 weeks. Events are a good way to earn special currency to unlock event specific 5 star girls.
Ultimate mission: These are very hard maps that new players shouldn't attempt.
Nation-based mission: This map changes daily and is sometimes unavailable. Only girls from their homeland can participate.
Problem counting... Again!
Daily Mission: You can farm gold, Blums, or Manyus depending on the day.
Standing missions: Special missions that are always able to be played. Shown here is a map for farming gifts.
Combat
After you select the world you want to do will get to the map screen in the first photo. Now if you look at 6-5 for example you will see that it has a big number and a small number in it. The smaller one shows how much stamina the map cost (In this case 30) and the bigger one is recommended total team strength (You can see this in the Leaderboard on the main screen, you have to refresh the game for it to update changes) After you've selected the map you want to do you will be taken to another screen like the one in the second photo, here you have to select an ally to help you in combat, they kinda work like a 5th team for you. If you have friends their first team will come up in this screen too. After you've select and ally you will get another screen, here you get to select which team tab to use (More info about this below), then just hit the red button if you're ready to start. You're now on the combat map screen.
Before you start combat, you may freely position your 5 teams around the set starting points by dragging them between the Camp (Tent) icons. Once the actual mission begins, your teams will take turns moving in accordance to the Movement Speed of each squad (the higher this value, the greater the distance moved per turn), with Team 1 moving first and the Helper Team moving last. When you are done positioning your teams, hit the bottom right red button to begin the mission. Combat is automated, and the only aspect you are able to control during combat is when to activate the Solar Drive.
During the combat you will notice these small yellow orbs drop from mobs and which are accumulated into a bar at the bottom right corner - this is the Solar Gauge. Whenever the bar is full and the button glows yellow, you can press it to use Solar Drive, which would summon a solar beam that hits all enemies.A good idea is to learn when and when not to use it as it can help you clear harder maps later on in the game. After you've cleared the map you will get a question if you want to send a friend request to your ally if he/she had yet to be listed as your friend.
Raid Bosses
See the Raid Boss main article for more information.
Raid Bosses are large pests which may require the cooperation of multiple players. Instead of using Stamina, you will expend Raid Points to fight bosses. The more raid points used the higher attack power multiplier you will have (blue = 1 point for 1x power, yellow = 2 points for 3x power, red = 3 points for 5x power). However, because the reward is always the same no matter how much damage you deal to the boss, it is generally advisable to only use 1 Raid Point at a time in order to maximize your rewards. If you were the one that spawned the boss, be sure to share the boss if you don't manage to kill it. The person who spawns the raid boss will receive additional rewards.
Raid bosses are spawned when you clear maps and you can only have one at the time, so you need to clear it before you can spawn another one. You will also get shared bosses popup in the tab so attack those too as they will reward you whenever someone kill them. Because there is no need to actually kill the boss in order to get the rewards, it is beneficial to attack high-leveled bosses even if you are very low level.
Raid Points refill at a rate of one per 30 minutes, and fully refill upon leveling up.
Solar Drive
Solar Drive is the name of the attack you can pull off in the middle of a subjugation to hit all enemies for non-critical damage. Shine Crystals charge up the Solar Drive gauge. Shine Crystals are normally earned by simply attacking pests in battle, but sometimes shrines can be found on the map which boost the Solar Drive gauge significantly. Clicking the big yellow button at the bottom-right hand corner of the battle screen activates the Solar Drive.
An approximation of the power of the Solar Drive is written in one of the Japanese Flower Knight Girl Wikis. For reference, its formula is translated below.
[ (Overall Force of your parties) / (10 * Number of your own parties [1 ~ 4]) - (enemy's defense / 4) ] * [1.01 + 0.01 * (Number of your own parties [1 ~ 4]) ] * (ability multiplier)
The power of the Solar Drive is not affected by your helper's overall force, but if they have any characters with passives that boost Solar Drive damage, those will apply.
Character Management
See the Character Management main article for more information.
The character management area allows you to manage your groups, characters, and equipment. This is your primary location for setting up your knights to run Subjugation.
Quests
See the Quests main article for more information.
Character Quests, give character specific equipment.
When a quest is complete the button will become red.
Shop
See the Shop main article for more information.
The shop enables players to purchase in-game items and currency. The items people will be most concerned with in the shop are purchasing flower spirit stones (華霊石購入) and the clearing house (交換所).
Comrades In Arms
See the Comrade in Arms main article for more information.
Comrade Listing

You can have a maximum of 30 friends up until level 60. After level 60, you get 1 friend slot per 3 levels up to a maximum of 50.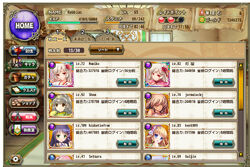 Pending Listing

This lists people that have requested to be your friend.
The Red button (承認) will accept the request.
The Blue-green button (取消) will deny the request

ID Lookup. 

This page servers 2 purposes. It allows you to see your FKG ID so that you can share it with other people to add you as a friend and also allows you to request being someone else's friend if you have their ID.
A good idea is to try finding a strong person to ally yourself with (or several), as he or she can help carry you on harder maps.
Office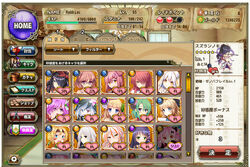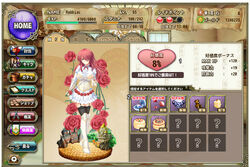 See the Office main article for more information.
You will start of on a different page than the one in the picture, but don't worry, just pick the button with a bear on it and you'll be in the right place.
Affection tab
Encyclopedia tab
Select a girl and go to affection increase.
Increasing affection doesn't just give you a H-scene if you play the 18+ ver but also increase stats for you, making them much stronger. After awakening a girl, the stat boost per affection rating is also increased. The stat boost carries over if someone use your team as an ally, but this is not shown in their overall force.
How much affection you have with the girl, after certain points you will unlock new dialog in main screen.
Affection items, if it have a red text (like in the picture) on it the girl likes that kind of item.
Like fairies and dragons, gifts have tiers too. Lowest give 2%, second give 4% and highest give 6%. There are also special heart items that will give 5% or 10% regardless of the girls preference. There are 4 types of affection items: gems, cake, books, and teddy bears.
Ad blocker interference detected!
Wikia is a free-to-use site that makes money from advertising. We have a modified experience for viewers using ad blockers

Wikia is not accessible if you've made further modifications. Remove the custom ad blocker rule(s) and the page will load as expected.