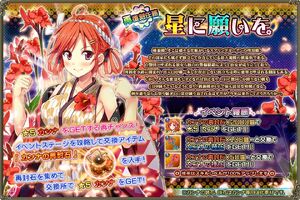 Wish to the Stars (星に願いを) is the 11th event. As the featured event, it was a Currency Acquisition event.
Featured event period: 6/29/2015 - 7/13/2015
Republished event period: 12/24/2015 - 1/6/2016
Re-republished date: 1/4/2017
Some information comes from the Japanese Wiki.
Event Party
Story
Exchange
As the featured event, Poem Strips (短冊) appear in chests in stages. When the event ends, prizes would be given based on the number of strips collected.
As a re-reprint event, Re-Seal Stones (再封石) replace the contents of all chests. Use them to buy things from the Shop.
Maps (1st Half)
Elementary 1
Version
Medal Reward
Stamina
Exp (Efficiency)
Chests
Original
Flower Stones x2,
Special Services Award (Copper)
10
55 (5.5)
Reprint
Seal Stones x10
Re-reprint
Re-Seal Stones x10
English: To Shangri-la
Japanese: 桃源郷へ
Intermediate 1
Version
Medal Reward
Stamina
Exp (Efficiency)
Chests
Original
Flower Stones x2,
Special Services Award (Copper)
20
90 (4.5)
Reprint
Seal Stones x20
Re-reprint
Re-Seal Stones x20
English: Uninvited Guest
Japanese: 招かれざる客
High Class 1
Version
Medal Reward
Stamina
Exp (Efficiency)
Chests
Original
Flower Stones x2,
Special Services Award (Copper)
40
160 (4)
Reprint
Seal Stones x30
Re-reprint
Re-Seal Stones x30
English: Mistress of the Battlefield
Japanese: 戦場の女将
Top Class 1
Version
Medal Reward
Stamina
Exp (Efficiency)
Chests
Original
Flower Stones x2,
Special Services Award (Silver)
80
280 (3.5)
Reprint
Seal Stones x50,
Flower Stone x1
Re-reprint
Re-Seal Stones x50,
Flower Stone x1
English: For Those That Must Be Protected
Japanese: 守るべきもののために
Maps (2nd Half)
Elementary 2
Version
Medal Reward
Stamina
Exp (Efficiency)
Chests
Original
Flower Stones x2,
Special Services Award (Copper)
15
83 (5.533)
Reprint
Seal Stones x10
Re-reprint
Re-Seal Stones x10
English: Finishing Work All At Once
Japanese: 一気呵成に
Intermediate 2
Version
Medal Reward
Stamina
Exp (Efficiency)
Chests
Original
Flower Stones x2,
Special Services Award (Copper)
30
135 (4.5)
Reprint
Seal Stones x20
Re-reprint
Re-Seal Stones x20
English: The Legend of Tanabata
Japanese: 七夕伝説
High Class 2
Version
Medal Reward
Stamina
Exp (Efficiency)
Chests
Original
Flower Stones x2,
Special Services Award (Copper)
50
200 (4)
Reprint
Seal Stones x30
Re-reprint
Re-Seal Stones x30
English: Loosely Weaved Poem Strips
Japanese: 短冊ざくざく
Top Class 2
Version
Medal Reward
Stamina
Exp (Efficiency)
Chests
Original
Flower Stones x2,
Special Services Award (Silver)
80
280 (3.5)
Reprint
Seal Stones x50,
Flower Stone x1
Re-reprint
Re-Seal Stones x50,
Flower Stone x1
English: May Shangri-la Exist Until The Very End
Japanese: いつまでも続く桃源郷